De Nieuwe Introverten op kunst.blog.nl
De Nieuwe Introverten vastgelegd met de camera van toen
---


30 YEARS OF TORCH

Opening September 6, performance September 26 - click for event


---
INTERVIEW IN CREA
Click for full interview.
---


TORCH GALLERY SUMMER EXPO

This summer TORCH gallery will give a very diverse group of artists the chance to present their latest works. Among them, Martin C de Waal.

Martin C de Waal is interested in the aesthetics of the outsider. He studies the outward and inner qualities of subcultures, eccentrics and loners. In his work - which can range from metal-hommages, spectacular opera-installations and classic photographic portraiture - he tries to emphasize the importance of diversity and equality within a society. In his latest body of work he goes back to the basics; black and white analogue photography, completely free of any editing. These photographs are honest, piercing portraits of extraordinary people.

On Saturday the 20th of July, from 5-7pm, this exhibition will have its festive opening.
Facebook Event

Flyer design by Maarten Nauw



---


THE NON ISSUE

CNCPT13 is pleased to announce their opening exhibition

THE NON ISSUE
A PERFORMANCE EXHIBITION SHOW
30 artists, fashion designers, graphic designers and one architect.

SATURDAY OCTOBER 13th
SHOWTIME 17:30

Curator Martin C de Waal
Music by www.discototal.com

Limited catalogue available
Free entrance
RSVP ONLY: info@cncpt13.com

Prinsegracht 266
Amsterdam


THE moment that Katharine Hamnett met then-Prime Minister Margaret Thatcher in 1984 wearing a slogan T-shirt declaring "58 per cent Don't Want Pershing" (in reference to America's controversial Pershing II guided missile being deployed in West Germany), has become the stuff of fashion legend - but the bold statement didn't make quite the impression on the PM that Hamnett hoped, she has revealed.

"She didn't notice it at first," the designer tells The Times, "but then she looked down and made a noise like a chicken. Then quick as a fishwife she said: 'Oh well we haven't got Pershing here, so maybe you are at the wrong party', which I thought was rather rude as she had invited me." Source: Vogue

Niels Shoe Meulman
Martijn Pyper
Steven Brunsman
Ari Versluis
Kate van Harreveld
Rienus Gundel Franciscus & Frans Franciscus
Marinus Schepen
Maurice Petitjean
Bauke Knottenerus
Chris Kuhlen
Hero de Janeiro
Brian Enrico Body Couture
Hajo van de Kuilen
Sebastian Line
Strawdogs
Cedric Jean Pierre Pradel
Maarten Nauw
Regina van der Kloet
Kim Koster
Sam Andrea
Dennis Koot
Martyn F. Overweel
Charl Landvreugd
Vincenzo Vigliarolo
Isolde Woudstra
Peterpopart Radder
Leendert Doremifasolatilo
Levon Buitenhuis
Martin C de Waal
Yens Cuyvers


Facebook Event Page



---





THE PROCRASTINATORS ft. MARTIN C DE WAAL

Lernert & Sander created a new series of 11 episodes of monologues about procrastination. Artists, writers and filmmakers tell about concentration, focus and the fine art of wasting their time. Martin C de Waal features in one of them.

View on Vimeo
More Procrastinators videos



---
DO OR DIE - THE HUMAN CONDITION IN PAINTING AND PHOTOGRAPHY
Two works by Martin C de Waal feature in the Do Or Die exhibition in the Wallraf museum, Köln/Cologne.
The exhibition also features other work from the Teutloff Photo + Video Collection, from, amongst others, Helmut Newton & Ingres, Nan Goldin & François Boucher, Jürgen Klauke & Titian, Paul McCarthy & Wilhelm Leibl, Jack Pierson & Bartholomäus Bruyn the Elder.
The exhibition runs from September 17 until January 9.
More info:
www.wallraf.museum
---
Photo by Jean Michel van Braak
FIRST BAVARIAN MUSIC & ART FRINGE
Martin C. de Waal will perform, together with Martina Prins, at Schloss Vagen for the First Bavarian Music & Art Fringe, September 11, 2010. (Click on the flyer for more details.)
---
Photo by Milan Boonstra
NEW INTERVIEW WITH MARTIN C DE WAAL
Read a brand new interview with Martin C de Waal at the
Other Edition blog
---
VERKADEFABRIEK DEN BOSCH
Expo Martin C de Waal in Verkadefabriek Den Bosch
in July and August.
For directions and contact info, go
www.verkadefabriek.nl
Verkade expo - captured on film.
The catalogue will be available during the expo at:
Boekhandel Heinen
Kerkstraat 27
5211 KD 's-Hertogenbosch
073 613 00 12
---
ON THE EDGE - CAPTURED ON VIDEO
Video footage of the On The Edge expo.
---
ON THE EDGE - 3 TO 26 JUNE
The exhibition "On The Edge" will feature - for the first time in the Netherlands - the "In Your Face" installation by Martin C de Waal.
More info about the piece in
this Kunstbeeld article
(in Dutch -
English translation here
)
Pipilotti Rist and Snow also feature in the Medialab in Enschede. The exhibition will run from June 3 to June 26.
Click on the flyer for more info and click
here for directions
.
Article on the exhibition in De Twentsche Courant Tubantia:
Click on the article to enlarge.
---
HET PAROOL, MEI 2010
Photo by
www.michielvannieuwkerk.nl
.
Click on the image to enlarge.
---
ITALO ELITE
Martin Duvall will spin records and perform at the extraordinaire edition of Italo Elite, Friday May 21 in Paradiso Amsterdam.
---
BLEND
Martin C de Waal features in the international Blend magazine. (Click on the image to read.)
---
"Liebestot"
Performance Martin C de Waal featuring Martina Prins
Photography: Jean Michel van Braak
(Click on the image to enlarge.)
Frame drawing by Martyn F Overweel for the new film "Untitled" (Grey matters) - 2010, 8 mm 1.05 sec. loop - by Martin C de Waal
(Click on the image to enlarge.)
SCHWARZWALD
Schwarzwald, open until March 14.
See
www.noordkaap.org
and
www.derschwarzwald.eu
for more info.
Address: Energiehuis / Noordendijk 148 / ingang O / 3311RR Dordrecht / Tel: 0031-6-18151849 / E-mail: info@noordkaap.org / Web: www.noordkaap.org
"Untitled" (Grey matters) - 2010, 8 mm 1.05 sec. loop - by Martin C de Waal
Review Schwarzwald in newspaper NRC Handelsblad 9 maart 2010 (click on article to read)
---
'YOU LOOK LIKE YOU DON'T NEED MONEY -
THE ART OF MARTIN C DE WAAL'
BOOK NOW AVAILABLE AT SELECTED SHOPS AND ONLINE
Soft cover art edition with inner flaps, double cover, 56 pages, introduction by Ken Pratt.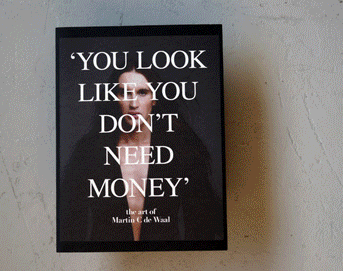 You can fetch a copy of the book at these selected shops:
TORCH ART GALLERY
Lauriergracht 94
1016 RN Amsterdam
t +31 (0)20 6260284
e info@torchgallery.com
Open: Thu / Fri / Sat 14 - 18 or by appointment
Order online at the Torch site:
www.torchgallery.com
(towards the bottom of the page)
...and receive a SIGNED edition with exhibition poster
SPRMRKT / SPR+
Rozengracht 191-193
1016 LZ Amsterdam
t +31 (0)20 3305601
ATHENAEUM NIEUWSCENTRUM
Spui 14-16
Amsterdam
t +31 (0)20 5141470
FOAM
Fotografiemuseum Amsterdam
Keizersgracht 609
1017 DS Amsterdam
t +31 (0)20 5516500
NIJHOF & LEE INTERNATIONAL BOOKSELLERS
Staalstraat 13a
Amsterdam
t +31 (0)20 6203980
BOEKHANDEL VROLIJK
Paleisstraat 135
1012 ZL Amsterdam
www.vrolijk.nu
CLOUDNINESTORE
Haarlemmerdijk 119-B
1013 KE Amsterdam
t +31 (0)20 428 80 04
&V SPA & STORE
Haarlemmerstraat 140
1013 EZ Amsterdam
T +31 20 6 140 140
M +31 61 5 086 205
MARGREETH OLSTHOORN
Witte de Withstraat 39
Rotterdam
t +31 (0)10 2827541
SKETCH
Lange poten 41
2511 CM Den Haag
www.sketchstore.nl
---
(Photography: Simon Bosch Photography, www.simonbosch.nl)
'HOW TO EXPLAIN IT TO MY PARENTS'/'HOE VERTEL IK HET MIJN OUDERS'
The episode of 'Hoe vertel ik het mijn ouders' ('How to explain it to my parents') with Arno Coenen has been nominated for the prestigious IFFR Tiger Award. Alle episodes of the series are available to watch online at
limboland.tv
.
Watch the episode with Martin C de Waal
Sleek Magazine:
"Either proving, or disproving the adage 'you can never go home again', Dutch artists and directors Lernert Engelberts and Sander Plug documented 9 artist as they attemp to explain their often abstract art to their parents. Set in a starkly limbo grey environment furnished with just enough to indicate rather then replicate a comfortable home, it is the relationships rather than the art, which are brought into colour focus. The results are at once touching and humorous: the parents lovingly indulgent of their offspring, or struggling to comprehend their artistic efforts - or both."
---
'YOU LOOK LIKE YOU DON'T NEED MONEY -
THE ART OF MARTIN C DE WAAL'
BOOK RELEASE DECEMBER 5TH, SUGAR FACTORY AMSTERDAM, 22.00 - 23.00
"The book is now currently in production and will launch December 5th at the
Sugar Factory
, the nightclub that houses the
Discocult
evenings for which Martin shot the flyer images over the past few years. The book features a large number of images made about, for and together with Martin himself. (...) Martin is a very talented, inspiring and unusual client for me as a designer." -
Martin Pyper, graphic designer
'You look like you don't need money'
will be available from December the 5th, starting with a late night book launch at the 'Sugar'...
see you there!
---